World 3 - Level 1
Vulture Culture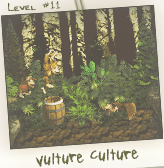 forest
3







60
Forest of barrels and buzzards...
Their first time in the forest sees the Kongs negotiating a woodland path inhabited by dozens of Neckys. There are many deep and wide gaps between the platforms of this area, so barrel cannons are often required, and even the Neckys unwittingly assist the Kongs in continuing their journey.

Got a great snapshot of Vulture Culture?
Post your snap here for the chance to have it shown in this gallery.

Challenge
#

1

Access the first bonus area without breaking open the nearby item cache.

HINT: Try a more direct approach... (as seen in a snapshot above)
Challenge
#

2

Bounce on enough consecutive baddies, etc. to score seven extra lives before the midway barrel.

HINT: You will need to sacrifice a Kong to pull this off.
Challenge
#

3

Have the first Mini-Necky shoot a nut to the right, and get to the end of the level without losing sight of the nut.

HINT: Time your barrel blasting carefully...