DONKEY KONG COUNTRY RELOADED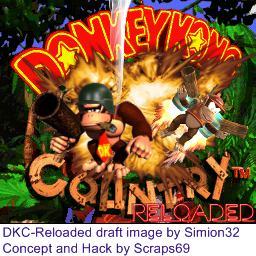 A project dedicated to creating edited and new Donkey Kong Country content. There's a whole new barrel of crazy with fast paced, thrilling levels utilising the untapped and unseen potential of Donkey Kong Country. Made by players for players.
Update 06/26/2011
Download version 0.32 of DKC_Reloaded by clicking

HERE
EDITED:
KONGO JUNGLE
: Jungle Hijinx, Ropey Rampage, Reptile Rumble, Barrel Cannon Canyon
MONKEY MINES
: Winky's Walkway, Bouncy Bonanza, Stop & Go Station by Kong Fu, Millstone Mayhem,
*NEW* Mice Cart Carnage
by aperson98
VINE VALLEY
: Vulture Culture (aka Rhino Rodeo), Tree Top Town, Forest Frenzy, Temple Tempest and
*NEW* Orang-utan Gang
.
GORILLA GLACIER
: Snow Barrel Blast (aka Blizzard Barrel Blast) by
Simion32
KREMKROC INDUSTRIES
: Oil Drum Alley by Kong Fu, Trick Track Trek by aperson98, Blackout Basement by aperson98.
Total: 18 levels
.
Title screen by Mattrizzle included. Banana and camera editing on all the levels by Simion32.
ATTENTION: IF YOU ARE HAVING PROBLEMS PLAYING THE GAME → PLEASE REFER TO THE FAQ BELOW AND FOLLOW THE INSTRUCTIONS. IF YOU ARE STILL HAVING PROBLEMS THEN POST A COMMENT IN THIS THREAD

DISCLAIMER: FOR EDUCATIONAL/PARODY PURPOSES ONLY. Donkey Kong Country is Copyright Nintendo/Rare.
Previous versions
:

(0.31) Downloaded: 33 times.
(0.27) Downloaded: 40 times.
(0.26) downloaded: 73 times.
(0.25) downloaded: 54 times.
(0.24) downloaded: 35 times.
(0.23) downloaded: 16 times.
(0.22) downloaded: 16 times.
(0.19) downloaded: 4 times.
(0.18) downloaded: 28 times.
(0.022) downloaded: 27 times.
Pah! It would be lucky if this junk got more then 500 downloads!
Current Work and progress re v 0.40 (info last updated 05/17/2011):
Kong-Fu: Completed Stop and Go.
Simion32: Crediting/version stamping. Finished and fixed Snow Barrel Blast. Banana work. Claim on Ropey Bridge Rumble and Tanked-Up Trouble.
Scraps69: Finished Orangutan Gang. Working on 3rd level in snow world.
Mattrizzle: title page/credits complete and included.
aperson98: title page/credits complete and included. Finished Trick Track Trek and Blackout Basement and Mine Cart Carnage.
The Story
Screenshots
Movies
FAQ:
The only advice I'd give is how to delete this cheap excuse of a hack
Q: I'm excited already!!! How do I play?????????
A: 1) Download an emulator, if you don't already have one. (I recommend ZSNES
http://www.zsnes.com
)
2) Download a DKC ROM (Must be United States version v 1.0). It is against the rules of this forum to directly link you to a ROM.
3) Download 'Lunar IPS'
http://www.zophar.net/download_file/14069
, which is used to apply a 'patch' (a file that puts a hack on a ROM).
4) Download and open a patch from this thread.
5) It will tell you to select the ROM you want to patch.
6) Apply the .IPS file downloaded from this site and apply it to that ROM (remember to keep a backup of the original ROM).
Alternatively, you can place the .IPS (but must rename the .ips name exactly the same as your DKC .smc ROM name) into the same folder as the original DONKEY KONG COUNTRY ROM and the ZSNES program will automatically patch it for you (though not permanently).
Q: I really enjoyed Jungle Hijinx but I keep dieing straight away in Ropey Rampage and there's nothing I can do about it!

-OR-

the game doesn't let me play any of the levels!!!!
A:
There are various solutions to this problem.
1.
Check to see what version of Donkey Kong Country you have. It should be
Donkey Kong Country (U) (V1.0) [!]
.
Not
(U) (V1.1) [!]
Not
(E) (V1.0) [!]
Not
(J) (V1.0) [!]
— Just
(U) (V1.0) [!]
.
You can check by looking at the name of the DKC rom. Alternatively

you can use NRST to verify that the checksum is 0xC946DCA0 (which is the correct CRC32 for DKC U v1.0) or you could also try 0059a of the DKCRE by
Simion32
(
it will throw a warning if you have something other than the correct version of DKC
).
If the rom is verified as

(U) (V1.0) [!] with a CRC32 of 0xC946DCA0

and you

still

have problems then:
2a.
use SNES-Tool (another program - ask the members in this forum) to remove the header.
---OR---
2b.
Download the SNES9x Debugger at
http://geigercount.net/crypt/
3b.
Open the ROM file in this version of SNES9x
4b.
It should complain about the header and ask you to remove it. Click yes.
---OR---
Just download a new copy of
Donkey Kong Country (U) (V1.0) [!]
from elsewhere in the world wide interwebs.
Q: These regular updates or episodes are cool and all... though I've been following this project for a while though I've been getting tired of replaying the entire game just for one level!
A: Heh, that's fair enough. Whenever you play a ROM and save, a new file appears which ends in .srm which is the save state. Just re-patch a new ROM (the .smc file) and make sure that the .srm file is same name as the .smc file and is in the same folder as the patched .smc file.
So, I patch "DONKEY KONG COUNTRY V U 1.0.SMC" with "DKC_Reloaded v U.19.IPS". The name of the .SMC file will stay as "DONKEY KONG COUNTRY V U 1.0.SMC". Now if you have finished the original game or been following DKC Reloaded, there will be a file called "DONKEY KONG COUNTRY V U 1.0.SRM", all you have to do is make sure that this file is in the same folder as the patched version of the SMC. If you have a saved file with a different name, just change it to match exactly with the SMC file.
Q: When will Project DKC Reloaded be finished?
A: No set time has been allocated.

Q: Is the game hard?
A: As any game, the difficulty curve increases as you progress. However, the game starts off harder than the original DKC.
Q: Any particular themes to go with the game?
A: Anything from fast, smooth, cool or challenging gameplay as well as finding and exploiting glitches. The first world (Kongo Jungle) is very much based on 'treetop' platforming to go with the jungle theme.
Q: The terrain looks messed up! Do something about it!
A: We're aware that the terrain can get messy however we're mostly currently working on finishing the gameplay element in levels. During or towards the completion of Project DKC Reloaded we will work on fixing the terrain to match the quality of DKC.
Q: I found a bug that; prevents me from progressing in the game; makes all the enemies dissappear; crashes the game; etc...
A: Report these issues in this topic and we'll try to get those problems fixed
as soon as possible
.
Q: Some of the levels are the same as the original!
A: We will edit underwater stagers when we complete all the land based levels. Mine Cart Carnage remains unchanged as well due to the low number of available sprites in that level which stunts creative freedom (however we will also make edits to that level when we start editing the water based stages).
Q: What tools did you use to create these levels?
A: We use translated versions of DKEdit from the
japanese DKEdit homepage
which enables us to use a mouse to change sprites. The DKCRE by
Simion32
is also used for banana mapping. The latest english translated version of DKEdit is located
HERE
.
Simion32
has developed an .ips for testing your idea located
HERE
.
Q: I'm pretty curious about the codes that you guys use...
Sure thing! There is archived documentation of object codes by Giangugolo
HERE
. Further,
Simion32
has compiled a list (of new and old code) in
this thread labelled as 'List of all used DKC Object Digits & Fuctions'
. Further
Simion32
has compiled a complete list of Shooting auto and non-auto Barrel objs and properties
HERE
.
There is new code littered in the DKC Reloaded hack and bits of code located throughout this thread.
Q: huh? I thought that you guys arn't up to Kremkroc Industries Inc!? Why am I seeing a screenshot based on that world?
Q: Are there Kong specific levels/sections?
A: Yes there are. You'll need to determine which Kong to use for specific parts of the game. The general guide is: if there is an enemy in a tunnel, if there is a krusha or Klump, or you need to jump really low then you should use Donkey Kong. If the level requires you to jump really high or really far, then use Diddy Kong. You may be required to use just one Kong or both Kongs.
Got any questions? Leave a comment in this topic.
Main Monkeys (Contributors):
Scraps69. The originator and co-level creator.
Simion32. Title Page Designer, Version/credit Title Page coder, and hexer/DK matrix manipulator. Co-level creator. Snow barrel Blast.
Kong-Fu. Co-Level creator and Promotions. Industrial Alley, Stop and Go Station.
Mattrizzle. Title Page Implementor.
aperson98. Title Page Assist. Co-level creator.
Want to be a contributor? We'd be more than happy to accept your assistance! Just leave a comment in this forum and we'll get back you soon.
Main post last updated on 05/17/2010
I'm off to consult my lawyers!