Anyone who's played a decent amount of DKC2 ought to be familiar with the Kremlings' Lost World - a place located deep beneath Crocodile Isle. A key feature of this area is the column of pink and blue energy seen flowing from a volcano, as pictured below: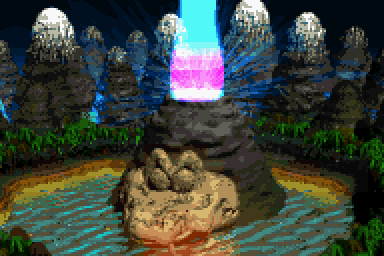 The nature, purpose and origin of this energy are largely unknown, but many members of the online DKC fan community seem to think that the energy - popularly referred to as the
'Kremling Force Power'
- is directly responsible for the 'creation' of most
(or all)
Kremlings
(some contributors to this DKU forum topic, for example)
. I'm not necessarily 100% opposed to this theory, but I've yet to see any credible sources to back up these claims. From what I've observed, the closest thing to a confirmation of this notion is a vague excerpt from the DKC2 instruction booklet:
"There are rumors of a lost world located deep beneath Crocodile Isle. It has been said that
this is the source of the Kremlings, and that there is valuable treasure to be found there..."
Clearly, this does not so much substantiate these ideas as it does
hint
that there could be some validity to them. Perhaps there are other official documents which hold some more substantial info, but I've yet see anything which confirms the 'force' energy to be the origin of Kremling society. If anyone knows of a credible info source which supports these
(or other)
'Kremling Force Power' theories, please share them.
Any other theories, opinions and general discussions regarding this aspect of the DKC series mythology are most welcome, too.