It seems there is a bit of uncertainty amongst the DK fan community as to the affiliation of DKC2's Lost World custodian, Klubba. The main confusion appears to relate to his loyalty to Kaptain K. Rool, as he changes his 'tough guy' approach to the Kongs as soon as he's given a handsome bribe, and will then grant them access to the Kremlings' Lost World - which it's fair to assume he has been put in charge of defending.
To me, it seems pretty clear that he was a loyal member of K. Rool's crew. He defended the Lost World on behalf of K. Rool, steadfastly denying the Kongs access until they paid him the toll. His alignment with K. Rool and the Kremling Krew is evident: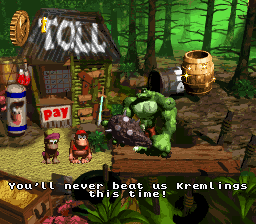 However, he has an obvious lust for treasure, and drops his tough-guy façade when he receives payment from the Kongs; "Thanks for the booty. Yer me best mateys now!". Not only that, but he makes some undeniably mutinous comments, such as
"Kap'n K.Rool treats us rotten. I hope yer scupper his plans!"
.
I guess the big question I still have is in regard to the 'sincerity' of his post-payment comments; is he just saying those things to encourage the Kongs to bring him more coins, or is he actually unhappy with life under the Kaptain's rule, and hoping the Kongs can overthrow K. Rool, and perhaps liberate the Kremlings from his dictatorship? This could be seen either way, I'm sure.
Another point I've been pondering... Who do we think imposed the 15 Kremkoin toll for each Lost World access point? Was it Klubba's idea, or K. Rool's? Who keeps the koins? It would seem Klubba does, if he's so eager to take them. Perhaps K. Rool only cares about the guarding of his Lost World, and the Kremkoins are effectively Klubba's payment for doing his job as the toll bridge guard. If so, is K. Rool happy to have the Kongs gain passage to the Lost World once they've earned their way?
Any other
Klubba
discussion is also welcome here.